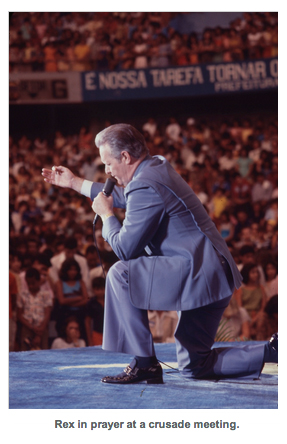 As a broadcast entity, the Rex Humbard Family ministry was always known as a ministry committed to prayer. But this was in fact only a reflection of Rex Humbard's personal deeply held lifetime conviction that prayer was the essential ingredient of spiritual life. He was a man of intense and continuous prayer "behind the scenes," certainly not only on camera.
He was also a man willing to stop in a public place, or in the middle of other activities, and pray for a single individual, even a stranger, if asked to do so – and he invariably responded with sincere and heartfelt prayer in such situations.
The prayer aspect of the Humbard Family ministry has been enormously effective and enormously appreciated from the beginning. Early on, Rex established a "Prayer Key Family," which became a worldwide body of believers committed to faithful weekly prayer for lost souls and for the Humbard Family's ministry to those souls, and committed likewise to faithful monthly giving in support of the broadcast ministry.
We have a continuing vision for calling God's people to prayer for the sake of lost souls, for the sake of seeing people's needs met – and today more than ever, for the sake of our nation. online by way of the website, email, Facebook, MySpace, or Twitter; or by regular mail; or by phone.
In your hour of need we strongly encourage you to contact the Rex Humbard Foundation asking for our prayers and the prayers of the Prayer Key Family around the world.
In God's word the Bible says that God hears and answers prayer of those who earnestly seek Him. Trust and believe in Him today and allow us the privilege of ministering to you through the power of prayer.
We also offer a free booklet of inspiration to help you in facing your day to day problems and to help you get started with your new life in Christ. Simply click here we will send you by return mail the booklet entitled "Your New Life" free of charge.