Dear Friends,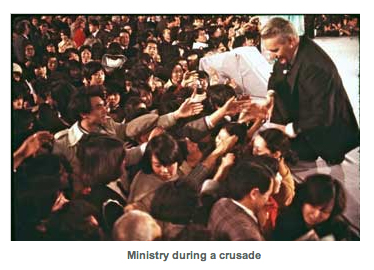 If you ever heard Rex Humbard preach the Gospel, we hope and pray you'll take the next 3 minutes to hear our hearts' desires. The moment you first heard that Rex Humbard had gone home to be with the Lord … where were you? And what thoughts crossed your mind?
I'm asking you because you were one of the stalwart faithful members of the Rex Humbard Ministry family… When I think about how many years ago God first brought you and my Dad together to win lost souls to Christ, I just have to shake my head in gratitude … I am just amazed by the way you allowed God to use you in His Kingdom. But I can tell you the thought that crossed our minds on that sad day when Dad breathed his last earthly breath….We said to ourselves, "This cannot be over."
Even as he slipped away into the arms of Jesus, we said to ourselves, "His work is not over. The work of winning souls is not over. There are still too many people who don't know the Lord … people who are going to die without Christ and spend eternity in agony." So we determined, then and there, to keep his soul-winning legacy alive, and find a way to let our "family" — dear friends like you — keep on leading lost souls to Jesus around the world.
More than 110 years ago Alpha "Dad" Humbard began ministering in the mountains of Arkansas. Those who knew him well, related to our family, that as a young man, Alpha would go to the woods every day and Study God's Word for many hours at a time. He then would lay face down in the leaves from the trees and Pray Prostrate, before His wonderful Lord. Each weekend he would ride a mule from one country town to another, filling the pulpits of church's who could not afford a full time minister. He was known as a Circuit Riding Preacher.
At the age of 13 Dad Humbards oldest son, Rex, dedicated his life to Christ and began his Ministry that would last until his Home-going at the age of 88. This ministry would be spread around the world to every continent in 77 languages through the means of Television and Short Wave Radio. At one time more than 2000 TV Stations carried the weekly Rex Humbard Foundation Programs. The only Calling that Alpha and Rex Humbard had upon their lives was Soul Winning and through their ministries countless thousands, if not millions, came to know the Lord as their Savior. This vital ministry for God continues until this very day; some 110 years later.
We will never, ever waver from this commitment.
"THANK YOU! I thought I was dead. But you gave me life … in the midst of my darkest hour … by sharing the Gospel of Jesus Christ with me! I love my Jesus, and He came as a gift from YOU!"
"For what shall it profit a man, if he shall gain the whole world, and lose his own soul?" (Mark 8:36)
We will never, ever waver from this commitment.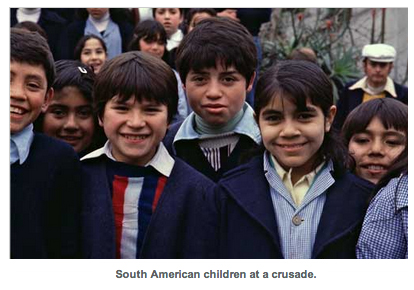 This, our friend, is Rex Humbard's legacy. We hope and pray you will sense the leading of the Spirit right now, and send a generous gift of love to help us meet this need. Simply click on the link below and tell us through your faithful support that you are standing with us in this sacred effort. Please also click on the link above called "Store" and support this effort with a financial gift, and receive Gospel Music, Sacred Books, Television Programs on DVD and many of Rex Humbard's greatest sermons.
It is clear that people still need God, and that to reach the world with the Gospel will require mass media. It is clear that prayer changes things – by changing people, most of all – and that the change prayer brings about is more urgently needed today than ever in our lifetime. It is clear that spiritually needy people often don't go looking for help in churches, or go looking for help at all — but when they come across the truth of God's love, in the "normal" places of their lives (like this Spiritually based web-site), the truth of God's Word makes a powerful difference, and their lives can be transformed by Him for eternity.
The commitment of the Humbard Family is as firm as ever. We are steadfast in our commitment to evangelism, to prayer, to high-impact ministry via high-efficiency media, and to reaching people "where they are." Accordingly, we have a multi-faceted vision for the future. And we invite you – as one who shares our commitment to the crucial goal of communicating the Gospel to a world in need – to stand with us. This web-site details some of the challenges and opportunities before us. We welcome your feedback, your participation, your support both in prayer and in giving.